Anyone who knows me knows that I love to read. It's something I've always enjoyed and I think it's so important that we grow and nurture a love of reading for future generations. We are really missing our trips to the library but thankfully we have a rather hefty children's book collection and I've been making the most of our libraries online ebook loan service to keep my kindle well stocked with reading material. Here's what we've been reading this month....
We used our World Book Day voucher to purchase this non fiction book. It's aimed at children older than Iris but she is really enjoying learning at the minute and this book has been a great way to encourage that. Protect The Planet is about the environment and the impact that humans are having on it. It's a great first step in bringing these issues into a child's consciousness and the book offers great tips on reducing our environmental impact and being a friend of nature. Iris is particularly interesting in recycling and requests that we read the 'bin man' pages several times a day.
Have You Got My Purr? is a great book for exploring all the different sounds that animals can make. The story goes that little Kitten has lost his purr and looks all around for it, he asks all the individual animals if they have his purr but they respond with "no I have a moo/quack/baa etc." It's a lovely repetitive book and I think that's why Iris has read it so much, she's wanting to read independently but can't yet so she's choosing books she can memorise and therefore join in with reading.
Another book that's great for memorising is Good Night Like This. This is a lift the flaps book that has a different set of animals on each page. Each set of animals is awake on the main page then beneath the flap is a picture of the animals asleep. The phrase "Good night..." is printed on the main image, and "...like this" is printed underneath the flap alongside the sleeping animals. It shows how everyone likes to get snuggled up down to fall asleep. The last few nights Iris has been saying "good night like this" when she turns the light off and gets wrapped up in her quilt.
This is one of my all time favourite books. I first read
1984
when I was about 15 years old and it instantly won me over. Dystopian fiction is my favourite genre and I usually love to re-read this classic every few years but revisiting it in the year of the pandemic has been a little too much. The parallels between modern life and life in Oceania seem a little too close for comfort.
Fill in the Rafflecopter below to enter to win a mystery bundle of books for you or your child. If you're unsure how to fill in a rafflecopter then check out
SuperLucky Di's guide
.
a Rafflecopter giveaway
Thanks For Reading,
Do you love to read? Is there a must have book that you can't wait to share? Why not link your blog review posts up to my

Books We've Been Reading

blog link up?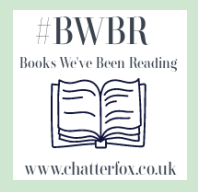 Linked Up With: